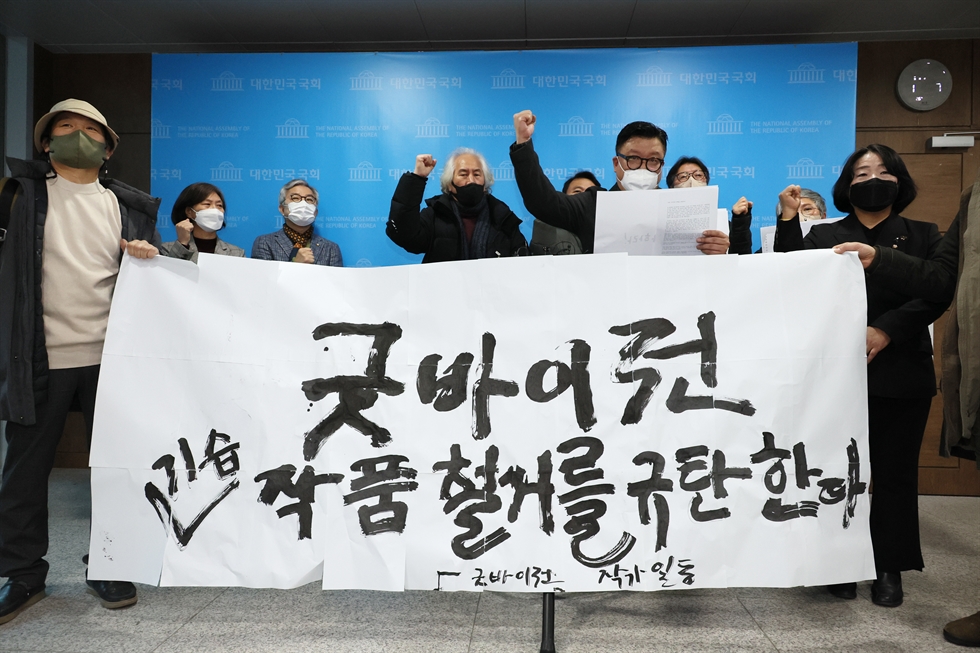 Read Time:
4 Minutes, 9 Seconds
Just yesterday, a satirical art exhibition which criticised South Korean politics was suddenly dismantled overnight. The art works – including its frames and stands – were taken into unknown storage, out of reach from the Artists, and out of sight from those visiting the exhibition. For some context, 12 National Assembly law makers (2 independents and 10 Democratic Party members) had gathered with various Artists to host a satirical art exhibition, with the aims of media reformation and of fighting the South Korean medias current bourgeois bias. The exhibition was originally supposed to last 5 days, before it was forcefully shut down prior to its opening on Monday.
The organisers of the event – who were initially given approval by the National Assembly – had been told to shut everything down just one night before its opening date. Most of the art works were satirical pieces which criticised President Yoon for his well-known debauchery, corruption, and appalling work attitude. Possibly offended by these bullseye-accurate satirical pieces, the Secretariat of the National Assembly suddenly came onto the scene claiming that these artworks were in breach of articles 6 and 7 of the National Assembly's space usage regulations. The Secretariat was alerted that their actions may be accused of being an abuse of power, yet they still demanded that by 11pm artists were to "voluntarily" take down their work.
The Secretariat has said that the "freedom of expression guaranteed by the Constitution should be fully respected, but we ask that you voluntarily remove the exhibition works by 11pm". While he has claimed that regulations were broken, he has been unclear (if not avoidant) to properly explain just which regulations have been broken by what and how. All we know is that articles 6 and 7 have been cited, yet – due to no clarification – we are assuming that they're likely referring to something along the lines of "slander".
The National Assembly is quite often used by various groups as a place to spread hateful messages and false information. Previously, a radical Christian group hosted a seminar with the "Korean Association of Family and Health", on ways to prevent AIDS by inviting people labelling themselves as "ex-gays'. Why is it that this kind of hate speech and false information had zero issues with the government or the National Assembly?
On the 9th of December at around 2am – the day of the event's opening – the artworks, including their frames and stands, were dismantled overnight. Artists and organisers were not made aware of this happening until they got to the venue and saw it for themselves, and there is still no straightforward answer as to why the exhibition's approval was so suddenly revoked.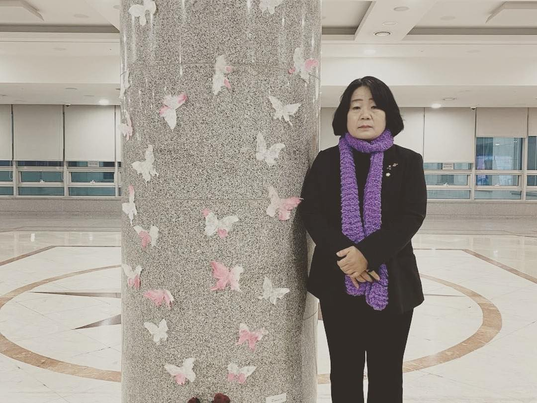 The Presidents attack on freedom of expression does not go unprecedented. Last year, a high school student who drew a satirical piece depicting the president as a "runaway train" and his wife as the "conductor", was attacked for the artwork. His awards were taken away and he received a "strong warning" from the art competition committee. Another artist taking part in the exhibition was investigated for posting a satirical cartoon near the president's office just yesterday.
The artists gathered to hold a press conference after the incident to condemn the "raid on their exhibition" and the "kidnapping of their works".
"This is an act of violence against democracy and suppression of freedom of expression"
It is a great concern of mine to see the direction in which this new government has gone, and is continuing to go. It has not even been a year since the inauguration of President Yoon and he has shown his authoritative iron fist agenda, which he has used to stomp and trample over any negative depiction or portrayal of him in any form of media.
If citizens – even as young as high school students – are being punished for having a voice and for having an opinion, then South Koreas democratic values are in grave danger…
I write this piece in hopes of revealing the reality of what's happening in South Korean politics. Majority of the notable western media outlets simply copy the news reports of South Koreas largest media empires, which publish heavily biased articles that are directly influenced by the president's office and the prosecution office (which is directly controlled by the President). Because of this, please be aware that finding accurate and truthful news about South Korean democracy from the west is extremely difficult.
Raphael Rashid is a great independent journalist who has helped me write this piece by sharing information and allowing me to base the article off his previous works. His twitter account @KoryoDynasty is filled with powerful and truthful news which I recommend to everyone so that you can remain properly updated on the news of South Korean politics.