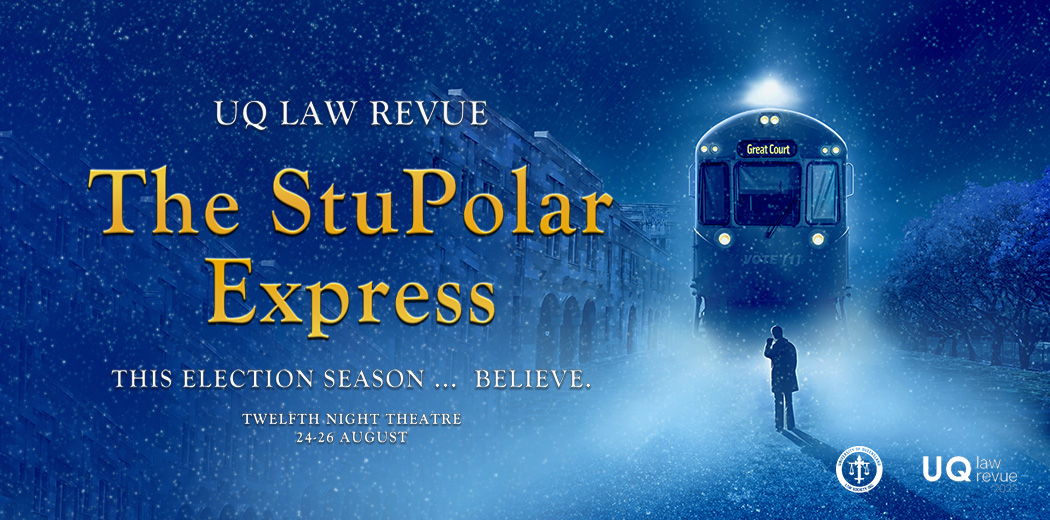 Read Time:
2 Minutes, 1 Seconds
Law Revue is one of the great traditions of the University of Queensland, and 2023's 'Stupolar Express' is another brilliant theatre experience.
To review the show on its content is somewhat moot; there's a vibe that comes with sitting in a Law Revue audience that you simply can't get from any professional theatre performance – and its leagues better than a community stage production.
Not everything lands, and that's part of what's great! Even the one or two truly unfunny sketches are worthy of a belly laugh. Sometimes the punchline is simply that students auditioned, drafted, submitted, got approval for, did table-reads, and then committed to regularly getting in their car and driving to rehearsals for sketches that just totally, flat-out are not funny. Mercifully, this happens only for two sketches in the show (though unmercifully, they're one after the other).
Pointless or not, I offer particular praise to Luke Allen's sketches 'Back at my Place' and 'Salty', the latter of which was a TikTok compilation that had audience members falling out of seats with laughter, and the former of which featured an unintentionally brilliant apparent ad lib on Thursday night in the face of a faulty prop.
I also thought highly of 'Flight VA924' by Georgia Perry & Will Cook, a parody of in-flight safety warnings that was heavy on physical comedy.
Every year, the show includes a 'Staff Sketch' that riffs on the peculiarities of the T.C. Beirne teaching staff. This year's gave me goosebumps with a heartfelt send-off for a beloved lecturer.
The band were delightful as ever, and their inter-sketch interludes are the lubricant of the laugh engine. The audience is always kept humming to a tune while the stage is being set, and sometimes outright singing in a transcendent, communal experience. You are sure to find yourself in a good mood, and cheering at random stage hands at work on their tasks.
Finally, I offer a desperate plea to showrunners of future years: you make good use of the projector already, but it really should be used to display the song lyrics during the musical numbers. The audience simply can't hear musical jokes when they have to compete against the sound of the band, and the occasional slow mic switch. The big numbers tend to fall a bit flat, which is a shame.