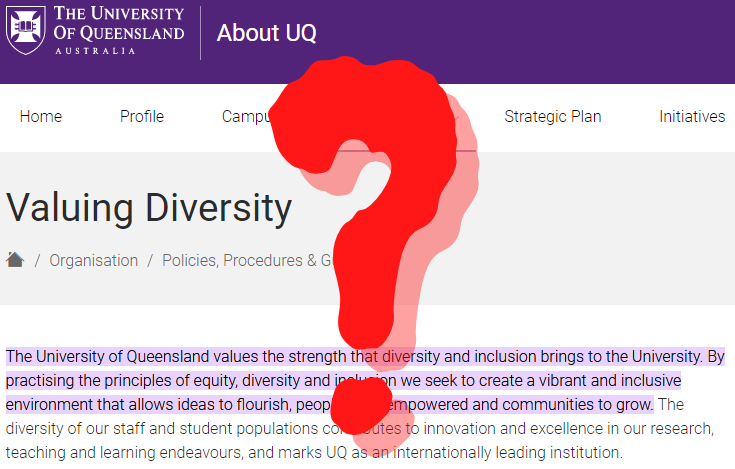 Read Time:
2 Minutes, 15 Seconds
Racism rears its ugly head in many and varied forms. For honours student Ian Trinh, it has most recently surfaced as a comment on his thesis, and in the correspondence that followed. Ian's Head of School (Political Science and International Studies), Professor Katharine Gelber, was – according to emails exchanged – adamantly "confident in the integrity of that [cross examination] process".
If your essay had however – per your Head of School – been through a "rigorous examination process involving two independent examiners, and a robust moderation process with checks and balances", you'd likely be – at the very least – miffed to read that it was "clear" – to your examiner – that your work was that of "an author whose first language is not English", and particularly so if this characterisation did not apply whatsoever.
Professor Lydia Kavanagh, Deputy Associate Dean (Academic) of the Faculty of Science and Deputy President of the Academic Board, viewed the remark as not racist, given the term 'ESL' (English as a Second Language) sees widespread usage; she did, though, curiously emphasise that 'English as an Additional Language' (EAL) is considered more inclusive.
On Professor Kavanagh's recommendation, Ian queried Professor Gelber as to what extent the comment influenced his marks. Despite the comment following directly after comments on grammar and expression, Gelber insisted there was no relationship between these comments, and that this was not an appropriate step to take. Gelber recommended instead that he appeal his grade.
To the contrary of these views, and to her credit, Executive Dean Professor Heather Zwicker (Faculty of Humanities and Social Sciences) considered the comment to be an "extrapolation" of the grammar-oriented comments and, "in a word, racist".
Semper Floreat's editorial team agrees. We read the comments, which was ironically difficult given some serious grammatical and phrasing errors!
A UQ Love Letter in late 2019 exposed an exam invigilator for demanding a student remove their hijab and in similarly racist circumstances, where a complaint was filed – midyear of the same year – against another invigilator, UQ adopted a policy requiring exam supervisors to undertake an examinations' conduct course once every two years.
Professor Zwicker has committed to investigating measures at school and faculty levels.
Semper understands racism at university cuts both ways. We've heard reports of BIPOC tutors and lecturers facing racial aggression in majority-white classrooms. This most commonly consisted of comments about teachers' accents, which has left persons visibly, physically, and emotionally uncomfortable in those spaces.
If you've experienced similar, or you know someone who has, we encourage you to come forward; Semper is committed to exposing misdeeds such as this, and will work with you to tell your story in whatever manner you're comfortable with.