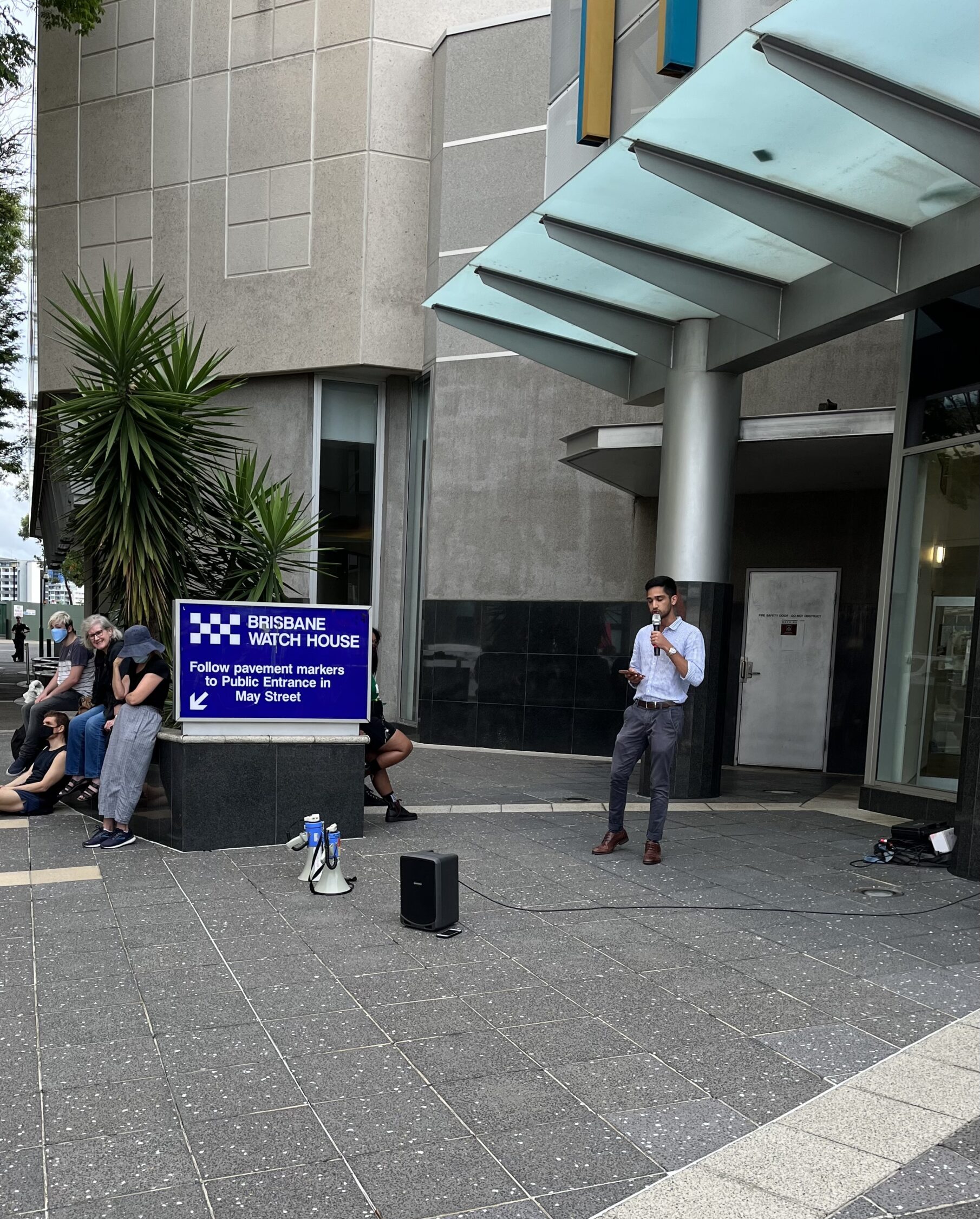 Read Time:
2 Minutes, 14 Seconds
At 6 o'clock yesterday, a group gathered at the City Watch House to decry the recent sentencing of an activist. Sergio, the climate agitator in question, faces a year's worth of imprisonment for standing atop a coal train, in Newcastle, and is one of many who form part of the growing "Blockade Australia" direct action movement. Curiously, he was sentenced by One Nation's Mark Latham's wife.
After some impassioned speeches from Sergio's comrades, the protest took to the streets, and the rally became an impromptu march. As we rounded the corner, past the magistrate's court, the police tried in vain to direct us away from the William Jolly Bridge.
Jonno Sri, on a bicycle, and a few others made it past the police line. It was here that the first protestor was arrested, at the ingress of the bridge, with a protestor pushed precariously against the balustrade overhanging the busy – Coronation Drive / Riverside Expressway – underpass. Said protestor cried out, repeatedly, for the others to "keep marching", but the march instead turned down North Quay.
"We should be furious that non-violent protesting can lead to such severe punishment. It's bizarre that magistrates and police seem to think that this outcome will do anything other than fortify our resolve."

UQ Union Councillor, Sam Adams
Rain broke out briefly, and the coppers then forced the march back down past the police headquarters, magistrates', and watch house. At this point protesters snuck through an alleyway and back onto North Quay, despite the best efforts of a cop protesters later labelled "scrawny". Having again circled the headquarters, police arrested two further protesters.
As you'd expect, this had been preceded by some testosterone-fuelled peacocking, on the part of the cops. The heavy-handedness herein was largely led by the black-gloved tactical response units. One of the arrestees reported being choked, prior to his arrest, and our on-the-ground film crew live-streamed footage of similar actions (this, and more, is accessible via our Facebook page).
Semper Floreat understands that each of the arrestees were fined and charged with obstructing the roadway, as pedestrians, and were released at around 8:30pm.
Sergio has since been released on bail, having filed an appeal.
Pictured: Sunny, Sergio's mate, in a photograph taken by Billie Kugelman.
Note from the Editors. Some have questioned whether Semper should report on issues that "aren't relevant to UQ students". To that, we say simply that climate change is perhaps the most relevant issue of our lives, in every context, and that it's time we had a discussion about direct action. We'll publish opposing viewpoints, too – where we regard them to be sincere.