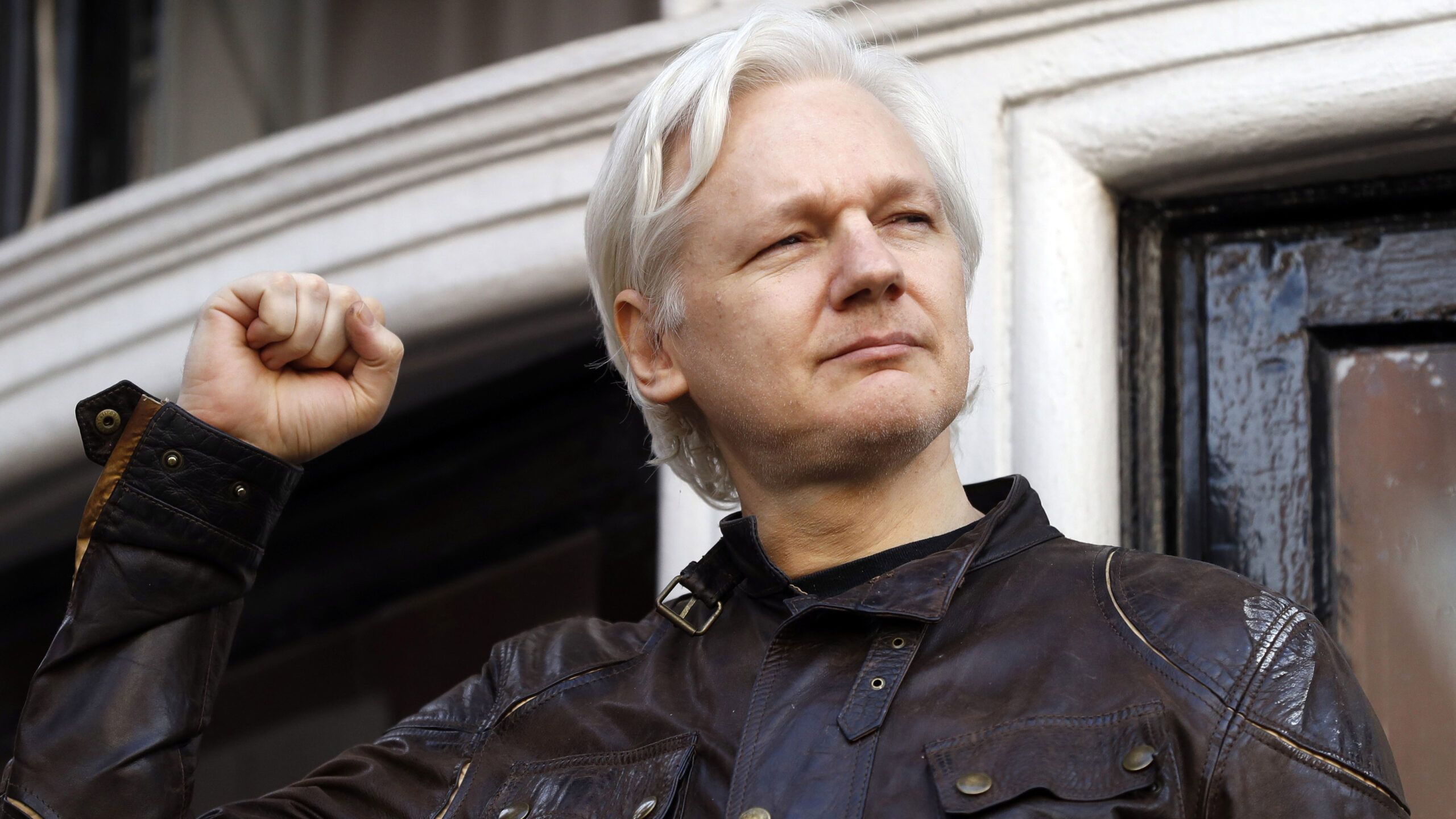 Read Time:
6 Minutes, 0 Seconds
12th of April, 2022
"Hello Miles, it's good to see you again." John Shipton is like all fathers. Almost like a gentle giant, his soft, mellow voice somehow penetrates through the bustle of the Union courtyard as the team of volunteers around us haul in tables, chairs, banners and merchandise for our stall while hundreds of students stream past. His relaxed, friendly greeting seems oddly disconnected from the organised chaos. "Did you say there was an aquatics centre here? I'd like to take my daughter Severine for a swim. What time are you finishing here?" I had been looking forward to speaking to him, hearing updates on the international Assange campaign, and planning some events for the Brisbane part of the campaign. But I genuinely believe there is (almost) no man more deserving of as much private family time as he can get than John Shipton. His son, Julian Assange, has been in the HM Belmarsh Prison in the UK since 2019 and is currently going through an extended court hearing for whether he can be extradited to the US to face punishment for breaking US espionage laws. The case has swayed backward and forward in the UK courts and is one of the most closely highly anticipated legal cases worldwide.
John is in Brisbane this weekend to agitate for an end to the imprisonment and extradition. It's clear that the ongoing persecution by the UK and US governments is in response to Julian publishing details of war crimes they have committed which makes his persecution politically motivated, and the campaign for his release a human rights issue. The last time John was in Brisbane (and the day we met), was 9th December 2020 and since then he has built up support for over 30 parliamentary groups around the world calling for the release of Julian. We can only shake our heads at the tacit support of the Australian government for Assange's persecution, but it seems natural given our country's ongoing human rights breaches with the indefinite detention of asylum seekers. Prime Minister Scott Morrison said of Julian's arrest in 2019 that, despite him being an Australian citizen, "it has got nothing to do with [Australia], it is a matter for the US." Morrison and the political elites have similarly wiped their hands of the refugees seeking a new life on our shores.
Tonight, John will preside over the Brisbane preview screening of the documentary "Ithaka" covering his international three year campaign to free Julian since the dramatic extraction and arrest of Julian by UK police from the Ecuadorian Embassy in London on 2nd of April 2019. Assange's long history is colourful and complicated. John Shipton and others allege that the Ecuadorian government handed Julian over to the English police in order to secure a loan from the International Monetary Fund, under pressure from the US government. Ecuadorian President Moreno claims the eviction was in response to Wikileaks publishing details of a corruption investigation into himself. A Wikileaks spokesperson claims the damaging leaks on Moreno mysteriously appeared online and were not published by them. Julian's life story is full of similarly complex issues much like the man himself. Although I never met him personally, I was lucky enough to know people who were close to him while he was politically active in Europe and Australia in the early 2000s. Claims about his poor conduct and character surface regularly as part of a decade-long smear campaign to bury the things he has revealed through Wikileaks. But I always felt a kinship with him as Queensland and I have a special claim on him. We were both raised in Townsville up north from a young age, free and wild.
The documentary starts with footage of the arrest in April of 2019. It was a similarly tumultuous time for myself as I watched my friends get arrested protesting Australian inaction on climate change as part of Extinction Rebellion. Following both John Shipton and Julian's fiance [now wife] Stella Morris, the documentary mixes footage of Shipton speaking at rallies outside the Ecuadorian Embassy, while Stella furiously coordinates the legal defence with Julian in prison. Mixed in with the footage are intimate moments amidst their extended families across multiple countries. John and Stella have an aged look in their eyes, partially explained by everpresent jetlag and stress, partially explained by the seemingly insurmountable forces arrayed against them from the justice systems and national security agencies of the US and UK. Stella married Julian in Belmarsh prison in March of this year, but they had maintained a secret relationship for much of the time he was isolated in the Ecuadorian embassy, eventually having two children with him. Initially a pro-bono lawyer on his defence team, at some point the roles changed and they fell in love. Stella describes the early years being a double life full of fear as herself and Julian are stalked by shadowy spies out of a Le Carre novel. Julian has been increasingly impacted by the confinement. After a formal diagnosis of Aspergers it is revealed his mental condition is desperate and he is on suicide watch. John Shipton is of like mind, for despite his tireless energy he is frank in his feelings that the campaign is hopeless.
Greens Senator Peter Whish-Wilson and former Greens Senator Scott Ludlam recently had a powerful observation to make: that the prime minister of Australia could pick up the phone and make a call to the US to ask them to drop the charges, just like John Howard did with David Hicks. Today Australian parliamentarians as diverse as the Liberals, Labor, Nationals and Greens supporting the Free Assange campaign, it can only be a matter of time until the Australian political mainstream is swayed to provide diplomatic pressure on the US to drop the charges. Either the government will, or I will force the matter through the electoral process as a campaigner for the new electoral alliance "Fusion".
But just as Stella, John and Julian are digital/physical nomads hailing from all over the world, the support for Assange is both intensely international, online, yet still local as the Brisbane #FreeAssange crew turned out to support the events this weekend. John is as approachable as ever; perfectly unperturbed whether in front of a boisterous rally, in a press room conference, dealing with the inevitable oddballs that crop up around items of major historical significance, or trundling past Abel Smith lecture theatre towards the UQ pool with his daughter happily in tow while the other volunteers and I get setup for distributing leaflets to students passing by. Disappearing into the flow of people a third of his age, John seems almost like a third wheel to his own campaign. Time passes and it's 1 o'clock; the flyers are gone and one of the volunteers flutters around like a worried mother, "Where is he? We need to leave, he has an interview with the ABC at 3pm."
"Don't worry," I assure them, "he knows family is important."