Dark Mofo is the coolest festival in Australia. Maybe even the world. Yes, this is a huge call, but where else in the world can you kick a footy then watch a drag show in a major church, stand around open fire pits with a hot toddy, and join 600 others in a nude, mad rush into the freezing cold Derwent river?
Dark Mofo has done the previously unthinkable; drawing visitors from interstate and around the world to the Hobart waterfront in the dead of winter. Even dragging Tassie locals away from their cosy, heated homes on a cold winter's night is no mean feat. So to see the Hobart waterfront lined with thousands is a sight for sore eyes.
It's hard to imagine another city that would embrace such an out-there festival so wholeheartedly. The entire city engages and embraces the festival, with local and state governments singing Dark Mofo's praises for tourism in the state.
The Siren Song is a festival-long sonic art piece, which plays eerie, stirring music at dusk and dawn across the city for eight minutes, the time it takes for the sun to set. The piece is as much amazing for the logistical feat required as the sound itself. Speakers adorn the tops of buildings across the city, and a helicopter with powerful speakers attached flies around the city, creating harmonies that reverberate off the buildings and water. It can be heard almost everywhere in the city, including residential inner city suburbs. It's hard to imagine another city council allowing this.
Dark Mofo is no stranger to controversy, and this year has been no different. 150.Action features a freshly slaughtered bull carcass, with artists performing ritualistic movements on the carcass. Animal rights activists have been very vocal in their opposition to the artwork, with 150,000 (**) signing a petition, and others gathering in protests outside the meeting place. Last year an exhibition in an abandoned mental asylum drew ire from some in the community.
For a ritualistic and purposefully weird and creepy festival, Dark Mofo is certainly accessible. Many of the exhibitions are free, and the museum itself is free for Tasmanian residents. Dark Park, a night-time playground of sorts is free and features many live art installations, including an impressive interactive laser & sound display. Chris Levine's piece evokes trippy clouds and the night sky, organised by the rules of sacred geometry, sticking to the theme of weird rituals.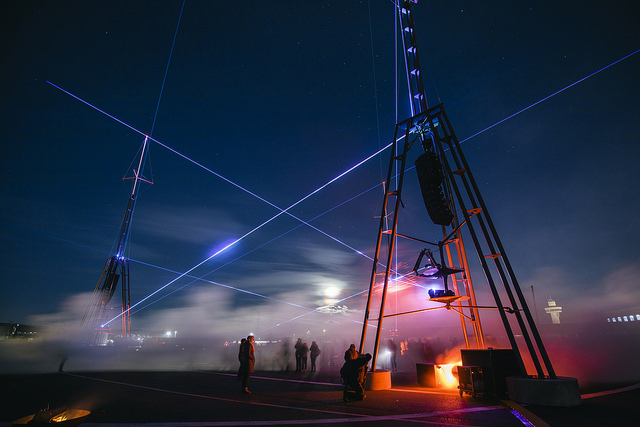 Talisker's Dark Bar is a fantastic hangout, converting a warehouse into a shrine to cold winter delights, including intermittently a DJ and great indie bands, an array of hot boozy beverages like Hot Toddies and hot gin punch, and powerful wood heaters and couches. Why would you stay at home when there's whiskey to be drunk and good times to be had?
Welcome Stranger was the event to go to, with tickets selling out months ago, and being hocked online for twice the price. Run by the Melbourne group who did an excellent job with Blacklist last year, Welcome Stranger was a huge undertaking. Spear across multiple inner city venues, attendees were free to move about at their leisure, never quite sure about what they would come across. There were AFL players kicking around footballs inside a church, people playing Royal tennis on the inside courts, Hotel rooms converted to themed karaoke rooms, a love room where you could lie down with half-naked women and discuss 'Eco-sexuality', see a drag queen stick a sparkler in her bottom, lay down and get massaged by low-frequency bass-heavy beats and dance the night away to an African band. Dark and unexpected, Welcome Stranger, like the rest of Dark Mofo is dark, weird and excellent.
You never quite know what to expect from Dark Mofo, so the best way to go about attending is just to buy tickets to random events, and turn up ready for anything. This is how I approached the events I attended, with blind faith in the Dark Mofo machine.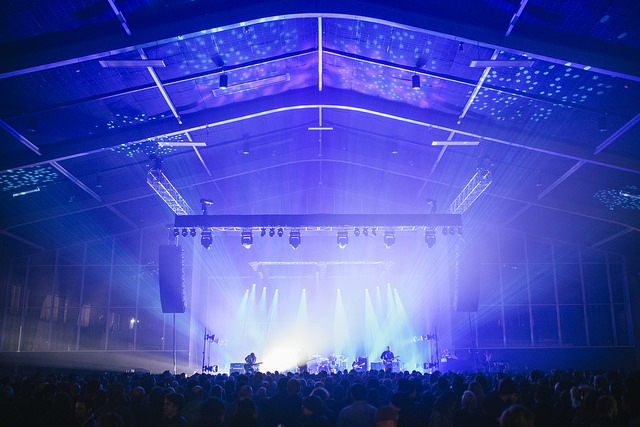 Mogwai, a Scottish post-rock band, and brought their extremely loud art-rock sound to Dark Mofo's first Friday at Macq1, a warehouse which welcomes cruise ships into Hobart. The lengthy guitar-focussed instrumental pieces undulated between eerie, softer, synthy songs and heavier, harder white noise-esque tracks. Sometimes uplifting, always moody. The minimal vocals and interaction with crowd added to the moody nature of the gig, with most attendees too cool to dance or show that they were having a good time. That didn't stop this reviewer from having a fantastic time, dancing to the up-tempo beats. A great gig, an inspired choice for the festival.
Seeing Sophie Hutchings at Federation Concert Hall posed the perfect contrast, typical of the eclectic festival. Post-classic piano pieces were melancholic and moving, accompanied by a cello and violinist. The audience were captivated, demonstrated in their complete silence during the performance.
Dark Mofo has completely changed and revived the tourism landscape in Tasmania. It is an inarguably world-class festival, bringing some of the world's finest artists to an island at the end of the world. There is hardly a better way to bring in the longest night of the year, the winter solstice than at a strange and challenging performance, Hot Toddy in hand.