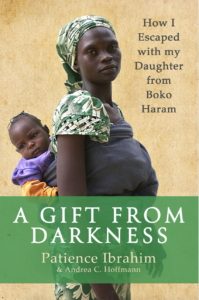 By Penelope Webster
I often find it difficult to become truly invested in reading certain novels. If the themes,  topics or style of writing disinterests me I'll barely reach halfway, close its pages and never pick it up again. However, never have I felt so perplexed and discomforted by the recounts of a young, Nigerian, Christian mother named Patience and the absolute evil terrorist group, Boko Haram, inflicted. When I finished reading this novel, I was just unable to comprehend how, as a society, we are enabling atrocious and inhumane acts of terror to occur to so many innocent lives.
This book was co-written by Patience Ibrahim and international affairs journalist Andrea Hoffman. Hoffman traveled to Maiduguri, a small town in Northern Nigeria and was accompanied by Renate Ellmenreich, a retired Protestant Vicar who used to live in the area. This book continuously goes back and forth between the present and past. The present visualisations and thoughts of Hoffman and Ellmenreich are examined, however the bulk of this novel focuses on the past encounters that Patience had with Boko Haram, all the while being pregnant.
Religion, objectification and compliance of one overriding ideology are central to Patience's recounts. Whether you are Christian or Islamic, women are treated as property and are married off, "produce many sons" and glorify the family name. Old world practices are very much alive in this novel. Being a widow or unlawfully pregnant would make you very vulnerable in a world like this. 
What really interested me about this novel was how strongly reversed the  "norms" of society were portrayed. Women, by choice, would join forces with the terrorist group and be in the front line of the action. Visualising these recounts through Patience's eyes triggers a feeling of angst and uncertainty knowing that fellow women have such extreme  ideologies. It is a world where women don't fear killing other women. 
Patience's story is not one for the faint-hearted and can be highly graphical at times, however I believe it's a story worth recognition. It is important to understand that many of us have been filtered away from the impact of inhumane actions, thus this novel provides a true grasp of extreme global issues.