By Molly Frankham.
Well, this movie was pretty darn freaky. Domestic violence in the Western cannon always seems to be framed as between a low SES couple, in their midlife, and that the 'battered woman' trope is regularly rolled out. Berlin Syndrome presents a different angle to what we are usually offered, one that highlights a problematic relationship between two young people. Problematic to say the least. The name is a play on the adage of Stockholm Syndrome, where a hostage falls in love with their captor. But don't expect anything predictable about this film. It twists and turns in very unexpected and thrilling ways.
Berlin Syndrome is an Aussie film, filmed in Berlin and Melbourne, and has two central characters, played by Teresa Palmer and Max Riemelt. Both actors give breath-taking performances. The film is incredibly raw and brutal, the actors clearly pushing themselves to give such awe-inspiring performances. Teresa Palmer described the film as an intense process, and it clearly pays off. This performance might give Palmer's career the boost into the Hollywood sphere, recognition a clearly very talented actor deserves.
The Director, Cate Shortland, is an Aussie lady, and brings such depth from the actors, and creates such beautiful scenes. The subtly and nuance of the relationship between the main characters is so expertly crafted, which possibly could be put down to the female director.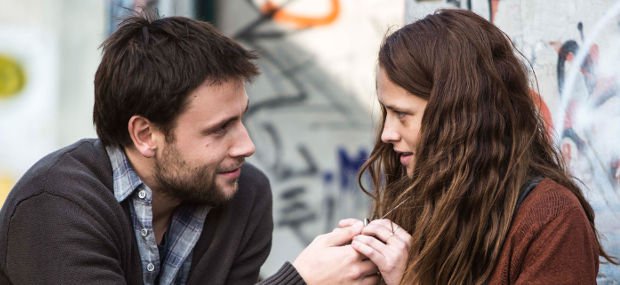 Despite the incredibly dark subject matter, there a few dark laughs, and it is cinematically strikingly beautiful. The city of Berlin is romanticised, with particular attention paid to the gorgeous architecture of the former BRD, when Germany was under Communist occupation. This is the focus of the character of Clare (Palmer), as she takes her camera around Berlin, exploring, giving rise to beautifully striking imagery.
As a young woman who loves to backpack, this movie struck a particular nerve. It stayed with me for a while afterwards, reminding me of how unsafe the world can be to young women, especially while travelling solo.
The intimacy of the film allows the viewer to empathise, and really imagine themselves experiencing the events portrayed in the film. The audience begins to understand what is happening in synchronicity with Clare, in horror. How did it go so wrong? And could this happen to me?

The synopsis is as follows. "Alone and adrift in Berlin, Australian photographer Clare (Palmer) meets a charismatic local Andi (Riemelt) and there is an instant attraction between them. But what begins as a passionate romance takes a sinister turn when Clare wakes up one morning to discover Andi has locked her in his apartment, and he has no intention of letting her leave, ever. Biding her time, Clare plots her escape as the walls of Andi's apartment close in, all the while becoming drawn into a complex relationship with her captor."
In sum, this was an incredible film. So emotive, so challenging and engaging. It was a rumination on the nuances of a blossoming romance, that go seriously haywire. The cinematography is beautiful and wistful, and the score is understated and perfect. What truly shines through is the striking performances of the two leads, in an apparent cautionary tale. Though what is being cautioned is unsure.
4/5 stars for this full on movie.