Late last week, UQ students from Hong Kong organised a peaceful protest in the Great Court opposing the recent extradition bill proposed in Hong Kong's legislature.
The students wished to express their grave concerns for the potential ramifications of the Bill's passage, as well as showing solidarity with the brave protesters back home.
On Thursday last week, more than one hundred students gathered throughout the day, dressed in all-white, to raise awareness of the ongoing protests in Hong Kong.
Phoebe Fann and Christy Leung are the two UQ students who organised the protest, wishing to make the Hong Kong student presence known on campus.
Phoebe said, "As a Hongkonger who was born and grew up there, it is my responsibility to stand up and protect the place we are all deeply in love with."
"I can imagine it was unbearable for many in the world to see the police brutally suppressing the peaceful protesters, not to mention how heartbroken and worried I was knowing my friends and family were amongst the protesters. I had to do something" she said.
Phoebe has helped run a Facebook page in opposition to the extradition bill for several weeks now, but with tensions escalating back home she decided a protest on campus was a necessary progression.
"Last week the page had aroused some attention but mainly from fellow Hongkongers who were already supportive, our message had not yet reached local students" she said.
The protest last Thursday was successful, but it was not without opposition, in fact, the event was nearly cancelled.
The night before the event was scheduled, organisers were in the Great Court having a sit-in session promoting the event.
Soon after the sit-in began, UQ Security approached the students and asked them to pack-up.
The organisers were informed that no promotional materials could be left overnight and that no political or religious protests would be permitted on campus grounds the following day.
The students were alarmed by the unexpected crackdown by campus security, which panicked them into having a smaller, far-less organised event the following day.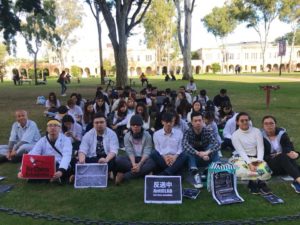 However, Thursday's protest went ahead after a UQ Security Supervisor authorised the event deeming it to be a peaceful protest with no 'discriminatory materials' or leaflets being distributed.
The UQ Hong Kong Students' Association (UQHKSA) helped promote the event, however, they made a public statement wishing to remain politically neutral.
"As the sole society in UQ that represents Hong Kong students, we understand that we have a responsibility to raise awareness of this matter. But, we also recognise that there are many competing views and we do not wish to misrepresent our members, therefore, we will remain politically neutral and encourage members to follow closely and form their own judgements."
Over the weekend, Hong Kong leader Carrie Lam announced the extradition Bill will be delayed indefinitely, which many onlookers have seen as a significant win for the protesters.
The announcement has been labelled the most significant backdown by the Government since Hong Kong was returned to Chinese rule in 1997.
Although the Bill has been 'indefinitely postponed',  it has not been withdrawn. Ms Lam is strongly supported by the Chinese Communist Party and will be encouraged not to bow to pressure from recent protests.
Ms Lam apologised for her Government's failure to reassure the public but said the bill would be revisited, circumstances permitted.
A second protest was held at UQ on Sunday afternoon, which saw more than 230 students rally in the Great Court, this time wearing all-black, in line with the dress of protesters in Hong Kong.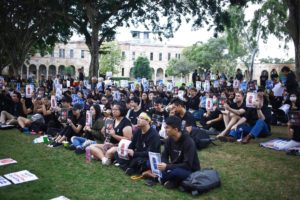 A spokesperson for UQHKSA said "The majority of Hong Kong students at UQ and in Australia are heartbroken by everything going on back home. It is not easy for them to passively witness through a screen and be unable to take action."
"Although there are mixed feelings, all students share the sadness and anger of witnessing police brutality and innocent people being injured during the protests."
"We know several students who are deeply concerned for their personal safety and worry that if the legislation is eventually passed, the government can prosecute political critics on groundless charges."
Overall, it is not an easy time for Hong Kong Students who are attempting to balance their need to study for exams with their want to monitor everything unfolding back home.
UQU President, Georgia Millroy wished to publicly express her support for the protesters both in Hong Kong and students at UQ.
"On behalf of the Union, we offer total support and solidarity with the people of Hong Kong. The bill being protested is undoubtedly a threat to the freedom of the people in the city. The people of Hong Kong have been exercising their fundamental right to assemble and express themselves freely and peacefully. That this assembly has been met with tear gas and other methods of violence is highly disturbing" Ms Millroy said.
"UQ Union stands with all Hong Kong students protesting at UQ. If students from Hong Kong require support or are under significant stress, we operate a confidential support service in SHOC which they can seek help from" she said.
The protest organisers at UQ have announced plans to continue protesting on campus in the coming fortnight.