Protesters from two different groups have today covered walls at the University of Queensland's main refectory with pro-democracy and pro-Beijing messages.
Hong Kong students began putting up a Lennon Wall outside the Student Services building around 1:15pm today.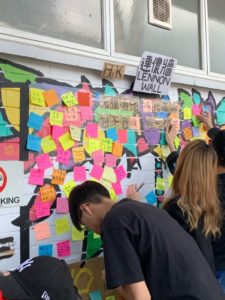 The University soon asked the group to move away from the Student Services building.
This comes two days after the University attempted to restrict a student protest to the Forgan Smith Lawns.
By 4pm, the Hong Kong students had left the area, with messages warning that CCTV was in operation 24/7 in the area. Sticky notes were left nearby with a note inviting students to leave a message of support.
At around 6pm tonight, students from mainland China began affixing messages of their own to another wall within the main refectory.
Some of these messages included photographs of people in face masks holding explosives with captions saying ' "peaceful" Hong Kong protester'.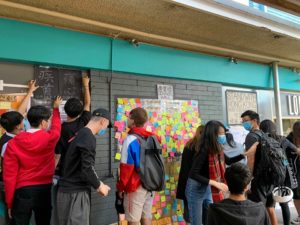 A Chinese speaker told Semper that most of the posts on the second wall were humorous in nature, and included emojis that are popular among Chinese internet users.
UQ Union President Georgia Millroy told Semper that the University was concerned that the Hong Kong demonstration would interfere with normal Student Services operations.
"The University told the student union that they thought all students should 'feel comfortable' while visiting a counsellor in Student Services," Ms Millroy said.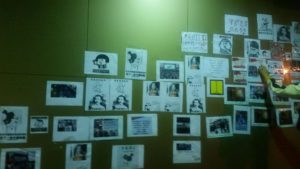 "The University then agreed that the wall should be moved 10 metres away, to a building operated by the student union," she said.
The Hong Kong students took down the Lennon Wall from the Student Services Wall and set it up again outside the Lolly Shop.
The new location for the Hong Kong students' Lennon Wall remains visible from directly outside the Student Services building.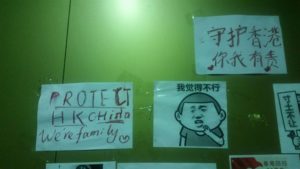 The original site for the Hong Kong students' Lennon Wall was on top of a mural that has previously been condemned by UQ Union Council for being a trivial addition to a wall that already houses a mural commemorating political action for Aboriginal and Torres Strait Islanders.