In a landmark decision last night, the UQ Union finally allowed the State Government to pass a law decriminalising abortion.
UQ's Student Union was established in 1912 as the peak body for legislative oversight in Queensland.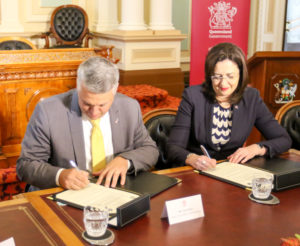 The process of removing abortion laws from the Queensland Criminal Code has been discussed in state politics for the past several months, but has been held up by the Union Council's refusal to give the go ahead on the legislation.
"I can confidently say that this motion passing the UQ Union has been the high point of my political career," Premier Annastasia Palaszczuk told The Speculator after Council approved the decision.
"We've been waiting by the phone all night for these student reps to hand their decision down," she said.
Deputy Premier Jackie Trad described the moment as "a win for students and the government."
Members of the Liberal National Party released a joint statement today to express their disappointment.
"While it had seemed inevitable that the decision would pass in State Parliament for the past several months now, we had been holding out hope that an impassioned plea to the UQ Union might have given us time to stall the process," the LNP State MPs said.
"Unfortunately, only the three members of the Council who are also members of the Liberal National Party voted against the motion this time around," they said.
UQU President Jeremy Lwin is set to sign the laws into power within the next 24 hours, at which point abortion will be decriminalised across the State of Queensland.