Read Time:
2 Minutes, 6 Seconds
Practice Example
by White Bishop
SOLUTION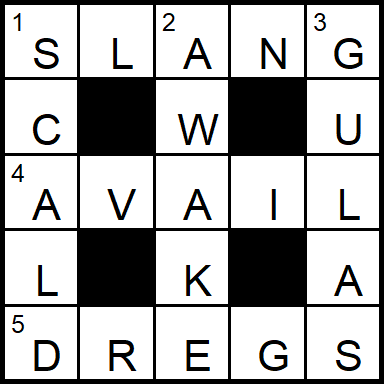 ACROSS
1 slang.
Means common language and in anyone'S LANGuage
4 avail.
Heard – The answer sounds like "a veil" and means to used to one's advantage
5 dregs.
Doctor DR examples EGS means sediment.
DOWN
1 scald.
Climbed a cliff – SCALED – lost a point E (east). Meaning "Got burnt"
2 awake.
Meaning "not asleep". Sounds like "A wake" which is held after a funeral.
3 gulas.
      Gula – Babylonian Goddess, Gulas slang for overeating.
#21 Straight Clues, White Bishop
ACROSS
1 Non-vowel rhyme. (10)
6 Goddess of Fire. (4)
9 Extremely modest or shy. (10)
10 Any thick, viscous matter. (4)
12 Exceeding or surpassing usual limits especially in excellence. (12)
15 The fur of young lambs. (9)
17 Brushed. (5)
18 Happening. (5)
19 Random. (9)
20 Part of a nerve. (12)
24 A narrow thin strip of wood as backing for plaster. (4)
25 Rudeness. (10)
26 Unit of measure. (4)
27 Dress for activity. (10)
DOWN
1 To swear. (4)
2 Less than average tide height. (4)
3 Inappropriate emotional behaviour? (12)
4 Repeat. (5)
5 A gradual increase in loudness. (9)
7 Pie fruit. (10)
8 Unskillfulness resulting from a lack of training. (10)
11 Bias (3-9)
13 As a mother. (10)
14 An electrical device for adjusting and measuring the strength of an electrical signal (10)
16 Care for a residence. (9)
21 One who attempts. (5)
22 Greek appetizer (4)
23 Celebrity. (4)